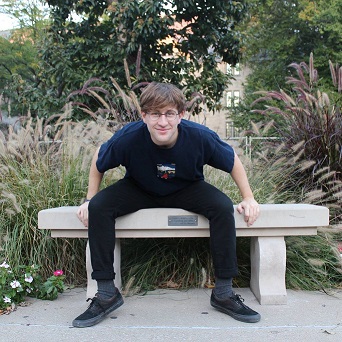 Hello!
My name is Lucas Fisher.
On this page, you can find out everything you need to know about me. Also there's a link to my resume at the bottom.
About me:
I am a real person. I do lots of things. I am a student at Indiana University. I am studying English and Informatics. When I'm not studying, I spend a lot of time making music. I play shows around Indiana sometimes with my band, The greatest band in the world (that's our real name). It's a good creative outlet and we have a lot of fun.
Recent projects:
1. Poetry Portfolio (ENG-W 403 - ADVANCED POETRY WRITING) In the fall of 2016, I worked under the direction of Catherine Bowman to produce my own poetry chapbook. All of the poems were workshopped by classmates. The chapbook was my final project for the class. You can download it here.
2. Collins Columns Research Project (CLLC-L 200 - COLLINS COLLOQUIUM) In the fall of 2016, I also worked under the direction of Jessica Ballard to use archival resources at the University to create a website about the history of the Collins Columns. The Collins Columns is weekly newsletter that has been in print for Collins LCC since 1981. You can access that website here.
---
I certify that the content included in this portfolio/website is my own original work (or is cited accurately) and accurate to my knowledge. Work included which was conducted as part of a team or other group is indicated and attributed as such the other team members are named and a true description of my role in the project is included.
Lucas Fisher 2017